Websites are the modern day first impression, introducing you to the world well before you meet in person. Just as with meeting in person, you only have one chance to make a first impression. Every company needs a great looking website, and no one understands this better than IVC Productions, LLC. When a potential client searches the web for your company, they judge your competence based on its appearance. That's where a professional design company comes into play.
We offer both assistance w/ DIY template sites as well as custom programming and web development solutions to help bring your vision to life in a way that will create a lasting impression.  So whether you're a start-up on a budget or an organization in need of web-based solutions to increase efficiency, we're here to help. We design web sites with the user and their clientele in mind, making sure it's responsive, informative and easy to follow.
Questionnaire
Fill out one of our questionnaires (Get Started, Get a Quote, Request a Phone Consult, or Ask a Question), and we'll be happy to review your website project.
Meeting
IVC Productions' creative web team will review your questionnaire, interview you and determine the project's scope and web strategy, including a timeline.
Sign Agreement
Now that our team has the scope of work, features, functionalities and path flow, the proposal will be put together and submitted for your approval/signature.
Design & Development
IVC Productions, LLC will do what we do best. Create a website that effectively translates your mission into a professional and memorable visual presentation.
Client Demo
We schedule a web demo between you/your team where your project manager will showcase the progress on your website to ensure we're on the right path!
Revisions
If revisions are required, all key points and revisions discussed during the initial demo will be noted in detail and emailed.  The next demo will also be scheduled.
Testing
Our quality assurance team puts your new site through a mired of stress tests, vulnerability tests and penetration tests to make sure it's ready for its grand debut.
Launch
Our team migrates your new site from our staging server to your final web hosting location, making sure to minimize downtime to you and your website visitors.
We live in a digital world and that world includes shopping online. E-Commerce, defined as commercial transaction conducted electronically on the internet, include online shopping, electronic payments, online auctions, internet banking and online ticketing.  Our team of experts know that businesses have diverse needs in e-commerce software based on their budget, products and other factors.  Tell us what you're trying to sell and we'll provide our professional advise on the best software solution for your project.
IVC Productions, LLC embraces the digital age in all its quirks, and social media is no different.  The rise of social media transcends its original purpose of professional networking and has become a public highway of knowledge, sharable in an instant. Business owners who do not have a social media presence, or perhaps created a business page but do not manage it, will benefit from IVC Productions' social media management service. We help ensure that your followers match the interests, demographics and behaviors of your clients.
IVC Productions, LLC manages social media networks such as Facebook, Twitter, Instagram and Google Plus on your behalf, using relevant marketing tactics to help your company grow and reach new audiences.
Share/Follow buttons
Make your content shareable with social share buttons. Not only do they help you increase awareness of your content, but also provides your visitors the opportunity to share content easily, which improves user experience. When choosing social share buttons, make sure you  choose networks that matter to you.
Social login
Did you know that 73% of users prefer to log in to a site with social login, as opposed to providing an email address and creating a new account. Improve your website visitors' experience with social login, and increase your website registration conversions and retention. Visitors love registering using their social media profiles.
Social Video
Social videos are videos that are created and shared on social networks. The added bonus of social videos for marketers is that they provide an easy social media integration for your website. With so many social media platforms including video in the mix, don't miss the opportunity to include your videos on your website too.
Instagram photos
This social media integration feature is perfect for those of you who want to showcase your Instagram photos on your website. If you're also trying to increase your Instagram following, embedding your Instagram photos in blog posts allows you to capture new followers from your website visitors.
Social Proof
Simply put, when you integrate social proof to your website you're providing your visitors the opportunity to trust you more. With 79% of consumers trusting social proof as much as personal recommendations, it's important you integrate the proper social widgets on your website to increase sales and website conversions.
Domain Registration Management
A domain name, or web address, is an address where you can be found online. It's how you'll express yourself through email or your website and it's what customers think of when trying to find you.  Your domain name says a lot about you, and new domain name endings like .guru and .photography can help you stand out on the web.  IVC Productions, LLC can help you select and secure the perfect domain name(s) for your company or project(s).
For your business to succeed, customers need to trust that you'll protect them from viruses, hackers and identity thieves. Count on our security products to keep your website secure, your visitors safe and your business growing.  IVC Productions, LLC can help you get setup with any of the following certificates:
SSL Certificates
Extended Validation SSL Certificates
Organizational Validation SSL Certificates
SAN SSL Certificate
Wildcard SSL Certificates
Code Signing Certificate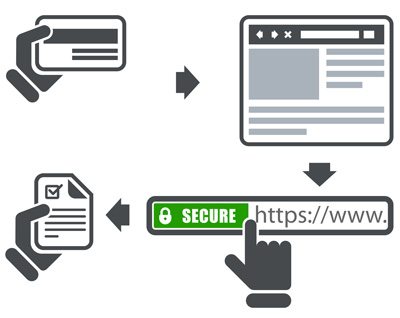 IVC Productions, LLC is an expert in helping you create flexible, efficient, and appropriate forms for your website.  Whether it's a contact form, survey, complex survey with conditional statements, an event registration form, a RSVP page, or a scholarship application, IVC Productions, LLC can get the job done.  We help you collect information, registrations and payments without writing a single line of code.  We'll work with you to determine if that form submission needs to be emailed, sent to a database, or connected to your email marketing platforms API (ie: MailChimp, Constant Contact, etc).